Governance
Message from the Chair of Governors
I am proud to be Chair of the Governing Body of Buxton School and a member of the Buxton School Learning Trust.
The Governing Body's role is to provide strategic direction for the school, supporting and challenging the Headteacher and the leadership team. We aim to make the school a centre for excellence in the local community, to ensure that every pupil achieves the best that they can and that the school reaches out into the community. We also have an important role in setting the budget and monitoring the school's finances, and responsibilities as an employer for the performance and welfare of our staff.
We work through committees which enable us to get into detail in important areas, such as the data on pupil achievement, staffing structures, and action on inclusion and behaviour. Our Link Governors spend time with subject leaders and in the classroom, so that we can see for ourselves what is being achieved. We aim to be visible, in the school and the community, and to act as advocates for the school.
We are proud of the outstanding work in many areas of the school. Rapid improvements in other areas reflect the hard work and commitment to professional development of all our staff. Visitors to the school often comment positively on the consistently good behaviour of the pupils and the supportive atmosphere throughout the school.
The Governing Body reflects the strengths and diversity of the school and community we serve, and the support provided by our Trust partners.
Meryl Davies
Chair of Governors.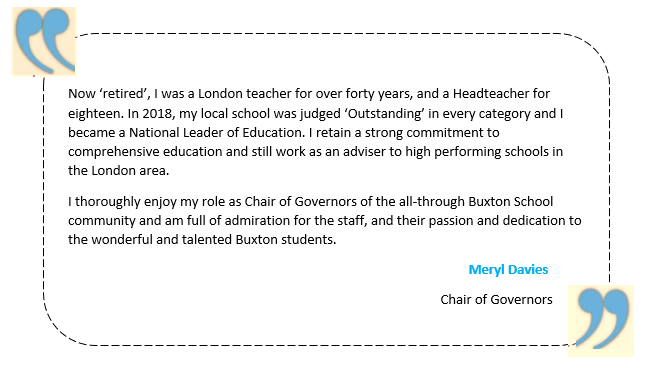 Alison Money is clerk to the Governing Body, and you can get in touch with us through her.
The Governing Body has 15 members comprising:
Parent Governors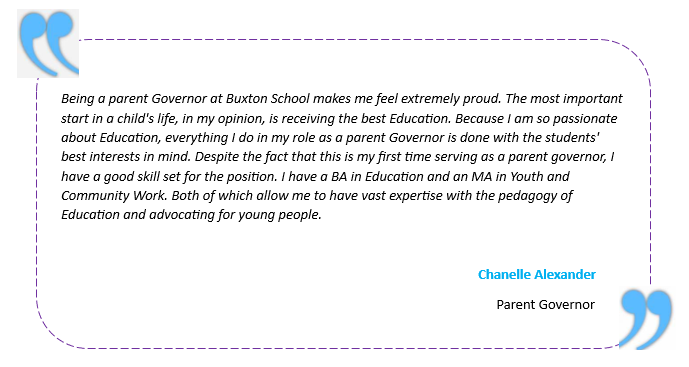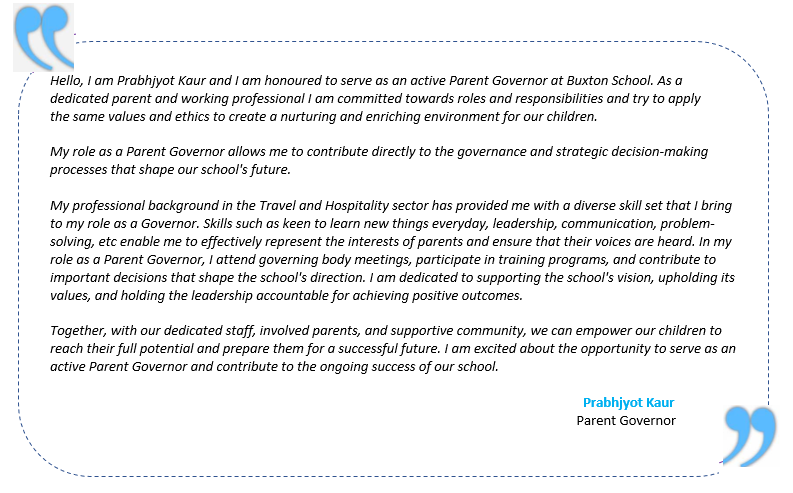 LA Governor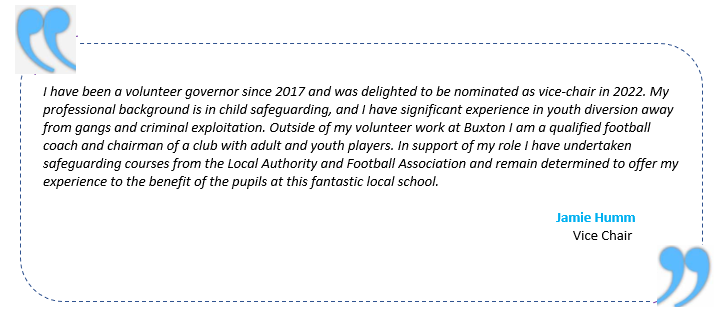 Staff Governors
Jackie Bowers-Broadbent (Executive Head Teacher)
Rudolph Joubert
Co-opted Governors
Sue Boon
Mike Dixon
Meryl Davies (Chair)
Theresa McGing
Vacancy
Tobi Rufus
Trust Governors
Bayo Alaba
Mark Joshi
Emma Humm
The Main Powers and Duties of Governing Bodies are:
Ensuring a strategic and systematic approach to promoting high standards of educational achievement
Setting appropriate targets for pupils' achievement at every key stage
Ensuring that the curriculum is balanced and broadly based and that the National Curriculum and religious education are taught
Reporting on assessments and examination results
Deciding how, in broad strategic terms, the school should be run
Setting an admissions policy
Determining how to spend the budget allocated to the school
Deciding the number of staff, the pay policy and making decisions on staff pay
Appointing the Head Teacher, senior staff and other staff
Agreeing procedures for staff conduct and discipline
Drawing up an action plan after an inspection
2019-2020
2020-2021
2021-2022
2022-2023