School Menu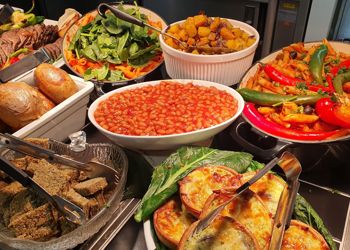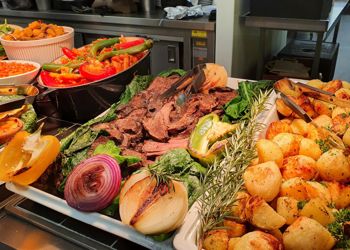 Why have school meals?
School meals at Buxton School are designed to provide a varied, healthy and interesting menu for our children and are excellent value for money.
The meals are cooked and prepared fresh each day to supply a good balance of healthy foods to support growth and development and to encourage long-term good eating habits. Meals are varied, to introduce children to different foods, including Caribbean, Asian, Mediterranean, and traditional dishes.
Meals consist of a main course and dessert, freshly baked bread and seasonal fresh fruit and vegetables. Children can also select from the fresh daily salad bar.
School meals provide your child with the opportunity to develop social skills while they enjoy eating with other children. Research has shown that a healthy, nutritious school meal can provide your child with the energy required to concentrate in class and cope with the demands of the day.
---
How to pay for school meals
Buxton School operates a cashless catering system and does not accept cash payments for school dinners. School meals must be paid for using 'ParentPay', a secure online payment system. On joining Buxton School, your child will be issued with an activation letter to set up their ParentPay account. If you already have a ParentPay account, just follow the 'Add a Child' instructions and the unique reference and password supplied in the activation letter. Payments can be made instantly online (the recommended method of payment) or you can 'top-up' at local PayPoint shops using debit/credit cards or cash. (PayPoint payments can take up to 24 hours to show on your child's meal account).
Please see the attached leaflets below for information about Primary Meals (Nursery to Year 6) or Secondary Meals (Years 7 to 11).
buxton_school_meals_info_leaflet___primary.pdf
buxton_school_meals_info_leaflet___secondary.pdf
---
Free School Meals (FSM)
All children in Reception, Year 1 and Year 2 are entitled to receive Universal Infant Free School Meals (UIFSM) but parent/carers must complete a registration form in advance. The form is supplied when first registering at Buxton or is available from the school office.
For children in all other year groups, entitlement to free school meals is NOT automatic. Parents/carers are expected to provide a lunch or pay for meals until they provide the office with proof of entitlement. The school office will liaise with the local authority (Waltham Forest) to check entitlement for all pupils at Buxton School.
You can check entitlement and apply for FSM online at:
Waltham ForestIf you are experiencing difficulties paying for your child's meals or using the ParentPay system, please contact the school office.