Primary Music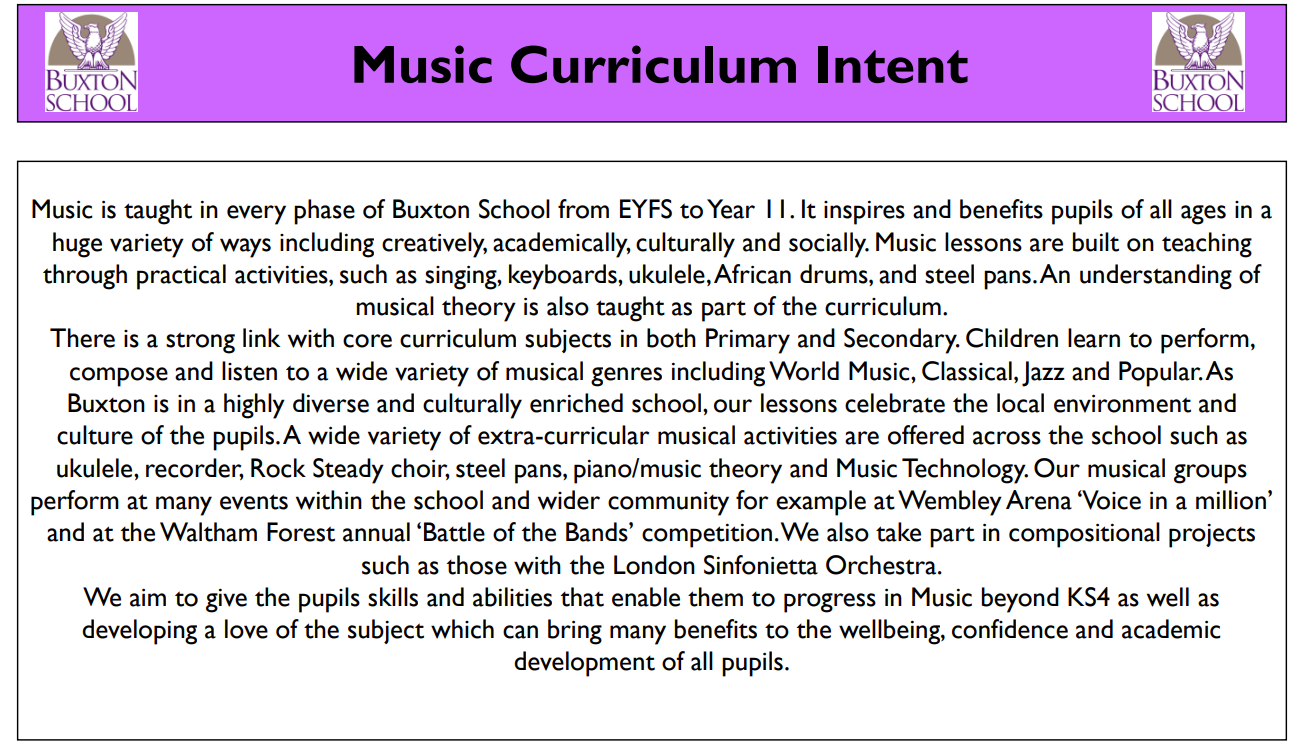 At Buxton School, we deliver a comprehensive music education through the Charanga scheme, in collaboration with the Waltham Forest Music Hub. Our music curriculum caters to students in the Early Years Foundation Stage (EYFS), Key Stage 1 (KS1), and Key Stage 2 (KS2), ensuring a progressive and engaging learning experience.
In EYFS, daily music activities include playing percussion instruments and singing familiar songs and rhymes, with a focus on pulse, rhythm, and pitch. These lessons are supported by Charanga resources.
For KS1 and KS2 students, our music curriculum covers listening, singing, composing (including improvisation), and performing. KS1 lessons concentrate on developing skills in pulse, rhythm, pitch, and dynamics through singing and improvisation using percussion instruments. Meanwhile, KS2 lessons expand on these skills, delving into musical notation, time and key signatures, and musical terms. Pitched and unpitched percussion instruments are utilised, and students who play instruments are encouraged to incorporate them into lessons when appropriate.
All students regularly listen to and evaluate a diverse range of music, learning about the instruments, performers, and composers involved.
In addition to regular music lessons, we offer a variety of extracurricular opportunities for students to learn instruments. These include Rock Steady sessions for all primary pupils, an after-school recorder club for KS2 children, and ukulele lessons for Year 3 and Year 4 students, provided by our music hub.