Art
Course Overview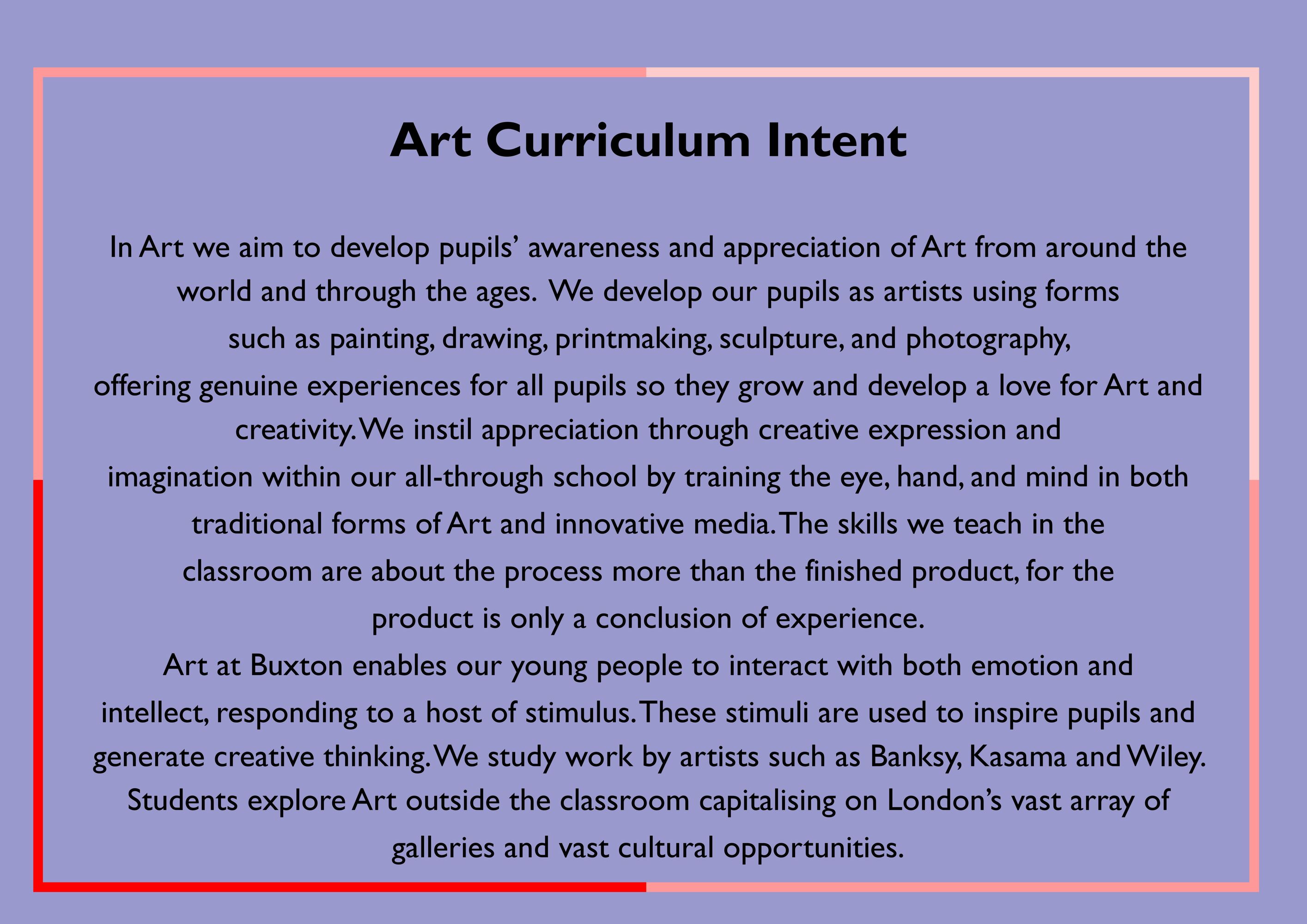 In Fine Art you will explore a range of two-dimensional and three-dimensional approaches to creating artwork; including drawing, painting, collage, print–making, video art, installation and sculpture. Work produced will explore the use of formal elements (line, tone, colour, texture, form, pattern and space) whilst also allowing you to reflect in your Art what inspires and interests you as a young person. Some of the projects we will cover include: Transformation, Messages and Street Art, Identity and Self.
Here you will research areas of contemporary, historical and global art to develop your individual ideas into finished pieces of artwork. Part of the research will include learning about the work of other artists and designers locally as well as from around the world; to help inspire you to produce exciting final and personal outcomes. We will be going to various Art trips and galleries where you will gain insight in how Art is organised and displayed, learn about Art associated with the projects you are studying and create work onsite.
You will keep personalised sketchbooks and portfolios that show your thoughts (visual and written) about the art world.
Assessment: Coursework or final exam %
Exam board: AQA
60 % controlled assessment + 40 % exam = GCSE grade
10 hour practical exam (set over 2 school days)
A mock exam will take place in Year 10
All class work and homework counts as controlled assessment.
Suitable Careers
Artist, designer, illustrator, architecture, website design, graphic and product design, advertising and media, film, television, fashion, textiles, costume & shoe design, make – up, animator, teacher, art curator, photographer, choreographer, gallery event's organiser, jewellery design.
Further study options:
Any creative subject BTEC and Vocational Courses at HE
AS and A Level Degree