Drama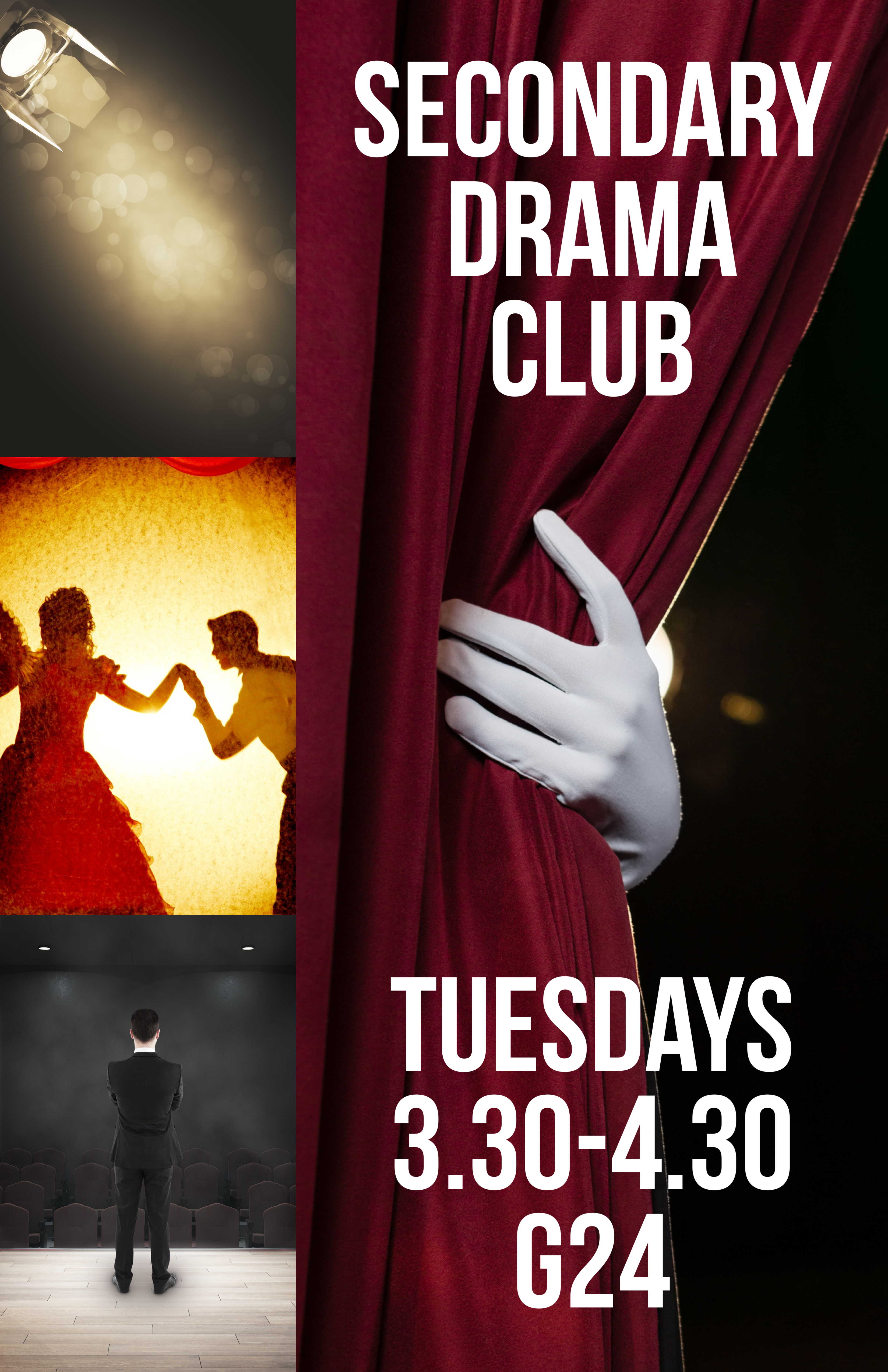 GCSE Drama Written Exam Resources
Course Overview
Drama fosters pupils' creativity, personal growth, self-confidence, communication and analytical skills through the acquisition of knowledge, skills and understanding and the exercise of the imagination. It promotes pupils' involvement in and enjoyment of drama as performers, devisers, directors and designers. It provides opportunities for pupils to attend professional and community dramatic performances and to develop their skills as informed and thoughtful audience members.
Through the study of this specification, pupils will be given opportunities to participate in and interpret their own and others' drama. They will investigate the forms, styles, and contexts of drama and will learn to work collaboratively to develop ideas, to express feelings, to experiment with technical elements and to reflect on their own and others' performances.
By studying GCSE Drama, pupils will learn more about the subject and its contribution to social and cultural commentary and will come to appreciate that drama, whether intended for audiences or not, provides significant opportunities for expressing cultural and personal identity.
GCSE Drama has a rigorous academic side to it and is not a soft option, so pupils should be prepared to complete written coursework and a written examination. They will need to have the confidence and willingness to perform in front of all types of audiences, including small children, peers, and the public. They will have to learn lines off by heart. It is worth noting, that there are several, compulsory theatre visits they must attend throughout the duration of this GCSE.
The board we currently use is Edexcel.
COMPONENT 1: Devising Theatre
Non-exam Assessment worth 40% of the qualification
Pupils are assessed on their acting skills (10%). They participate in the creation, development and performance of a piece of devised theatre using either the techniques of an influential theatre practitioner or a genre, in response to a stimulus set by Edexcel. Pupils must produce:
• a realisation of their piece of devised theatre
• a written portfolio of supporting evidence
• a written evaluation of the final performance or design.
The portfolio and evaluation total 2,000 words and are worth 30% of the qualification
COMPONENT 2: Performing from a Text
Non-exam Assessment: externally assessed by a visiting examiner worth 20% of the qualification
Pupils are assessed on their acting skills. They study two extracts from the same performance text and participate in one performance using sections of text from both extracts
COMPONENT 3: Interpreting Theatre
Written examination 1.5 hours in length worth 40% of the qualification
Section A: Pupils write about the historical context of a set text. They respond to questions about how they would perform certain characters, as well as how they would create designs for a production of the text i.e., set design, costume design, lighting design
Section B, Live Theatre Review: One question, from a choice of two, requiring analysis and evaluation of a given aspect of a live theatre production seen during the course.
Suitable careers
Drama helps you to get any job, as it teaches you confidence, collaborative skills, empathy and the eloquence to pass any interview; it prepares you for any career that involves:
Performer / director / choreographer
Theatre backstage roles such as technician, designer, stage management, company stage management, front of house manager
Teaching and lecturing
HR Learning and Development Specialist
Events Management / Public Relations
Marketing
Law
Broadcast / media roles (film/TV/radio roles – including the many backstage roles such as producer, floor manager and researcher)
Arts in the community work
Arts administration
Drama is not just about learning to act: In an age where all info is available on Google, it is people skills, confidence and the ability to communicate and execute creative ideas that sets you apart and makes you employable! It is well respected.
For more information about our Drama curriculum or enrichment projects, you can contact the Head of Drama, Mr. Mawdsley:
darren.mawdsley@buxtonschool.org.uk