Maths
Course Overview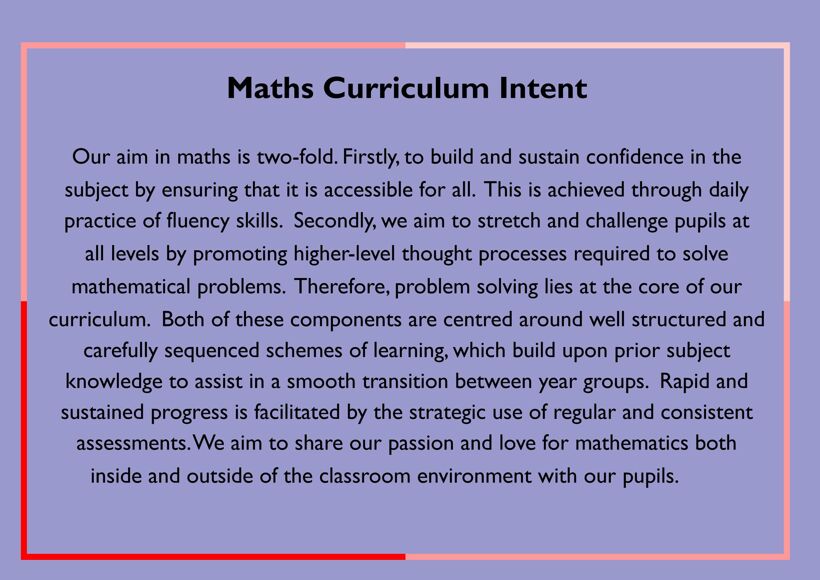 All students in Years 7 and 8 will study components of the main 10 topics listed below. Securing this learning will ensure they are on track to make the expected level of progress:
Numbers, Decimals and Fractions
Properties of 2D Shapes
Expression, Equations and Identities
Graphs
Collecting, Processing, Representing and Interpreting Data
Indices, Ratio and Percentages
Geometry and Measure Skill
Algebra Skill
Functional Graphs
Data and Probability
In Years 9, 10 and 11 pupils will study:
Number
Algebra
Ratio, proportions and rates of change
Geometry and measures
Probability
Statistics
Our high performing students have a chance to enter the UKMT competition which takes place in the Autumn and Spring terms. Dates will be published closer to the competition time.
Syllabus details
Edexcel Linear Paper
Assessment - Examination papers
At the end of their GCSEs, there are three exams (all of equalweight):
One non-calculator exam
Two calculator exams
Homework
Homework is set once a week. A variety of tasks are set including consolidation of classwork, past papers and internet tasks.
Recommended Resources
Scientific calculators and a maths set
Recommended Revision book
Letts general revision guide, CGP Maths Tutor
Recommended Website
My Maths, MathsWatch, BBC bitesize, Nrich, MathsAlive, MathSpace, MangaHigh, Corbett Maths.