MFL
Course Overview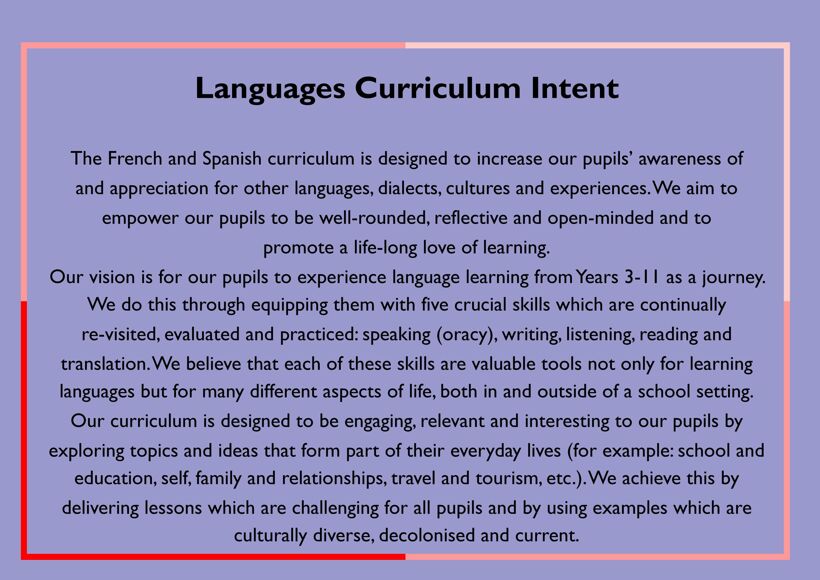 The new GCSE in French is spread over three years of study. All marks are gained with a final exam in Year 11 in the following areas : listening (25%), Speaking (25%) , Reading (25 %) and writing (25%).
Topics include:
Home Life including daily routine, meals, descriptions of house and family
Home town and region including local facilities in the area
Education including school life and future plans
Environment weather, pollution and recycling
Social issues including healthy living, crime, accidents and politics
Life in other countries global issues, travel and tourism
Youth culture including fashion, music, shopping, sport and holidays
New technologies including sending messages and accessing information
World of work including work experience and future careers
The media including newspapers, television, film and radio
Skills required / Pupil expectations
Pupils are assessed in the four language skills: listening, speaking, reading and writing over the 3 years of the course. Pupils will need to learn a great deal of French vocabulary and grammar, as well as being able to translate text into English and French on a regular basis.
Assessment: Coursework or final exam
Assessment in each language skill is weighted as follows:
Listening 25%, speaking 25% (3 speaking activities 8 minutes Foundation/ 12 mins Higher), reading 25% and writing 25%.
There will be final examinations in year 11 in listening, speaking, reading and writing. It is important that pupils are able to deal with writing extended pieces of writing in French as well as being able to conduct role-plays, extended conversations and presentations in French.
Exam Board: (Eduqas) GCSE French examination syllabus.
Suitable careers
Many universities and sixth form colleges require qualifications in a foreign language, for entrance purposes to certain courses. You should seriously consider taking a modern foreign language, if you intending to go on to study at university.
Language skills are a valuable qualification for many careers. There are opportunities in fields such as: broadcasting, advertising, government, medicine, law, teaching, commerce and the travel business.