GCSE English Language and Literature
Course Overview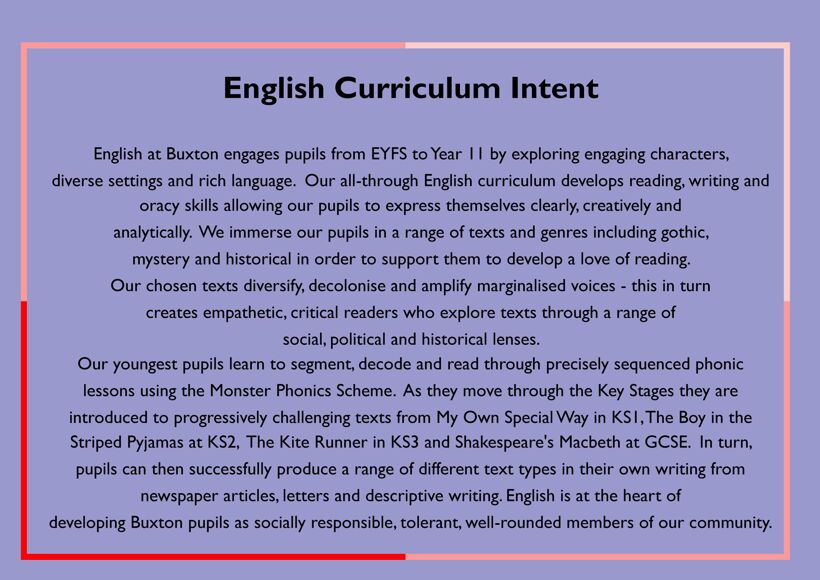 Pupils study a double GCSE in English Language and English Literature. Under the new curriculum, these exams now have an equal weighting.
The Language exam involves two papers:
Paper One is entitled 'Explorations in Creative Reading and Writing. This focuses on a fiction extract and is comprised of five questions. Students will complete a Reading Section (four questions) based on a provided unseen resource. They will also complete a Creative Section (one question) which will encourage students to use their creativity, flair and imagination using visual and/or written stimuli.
Paper Two is entitled 'Writer's Viewpoints and Perspectives.' This is a contrast and comparison paper involving five questions (four based on reading and one based on writing). They will be provided with a contemporary source, and a 19th Century source. All questions will be based on these sources.
There will also be a Speaking and Listening component, which will consist of the student preparing and performing a speech. This will be assessed but will not contribute to the GCSE grade.
The Literature exam involves two papers:
Paper One is entitled 'Shakespeare and the 19th Century Novel.' This paper comprises of two questions; one based on each of the above. The Shakespearean play students will study is 'Macbeth.' The nineteenth century novel students will study is 'A Christmas Carol' by Charles Dickens or 'Strange Case of Dr Jekyll and Mr Hyde ' by Robert Louis Stevenson.
Paper Two is entitled 'Modern texts and poetry.' This paper comprises of five questions: one on a modern text, one on studied poetry and three based on two unstudied poems. The modern text students will study is 'An Inspector Calls' by J.B. Priestley. The poetry will be the 'Love and Relationships' cluster prescribed by AQA. Some of the poets included in this cluster are Carol Ann Duffy, Charlotte Mew, Simon Armitage, Lord Byron, Robert Browning and many more.
Syllabus
AQA Language and Literature
Assessment
Under the new curriculum, English is linear. All students will sit two English Language examination papers and two English Literature examination papers.
There will be no Controlled Assessment or Coursework.
Recommended Resources
See texts and poets listed above. We also recommend encouraging your child to read the some of the following novels so they can become acquainted with nineteenth century language and modern texts:
Charles Dickens 'Great Expectations'

Charlotte Brontë 'Jane Eyre'

Mary Shelley 'Frankenstein'

Jane Austen 'Pride and Prejudice'

Sir Arthur Conan Doyle 'The Sign of Four'

Willy Russell 'Blood Brothers'

Dennis Kelly DNA'

Shelagh Delaney 'A Taste of Honey'

William Golding 'Lord of the Flies'

George Orwell 'Animal Farm'

Meera Syal 'Anita and Me'

Chinonyerem Odimba 'Princess & The Hustler'

Winsome Pinnock 'Leave Taking'

Kit de Waal 'My Name is Leon'
Newspapers such as The Times and The Guardian (can be read on-line) and websites such as BBC Bite size. We also recommend the More Able Reading List KS3 and KS4 created by the English Department to encourage reading around the subject.