Music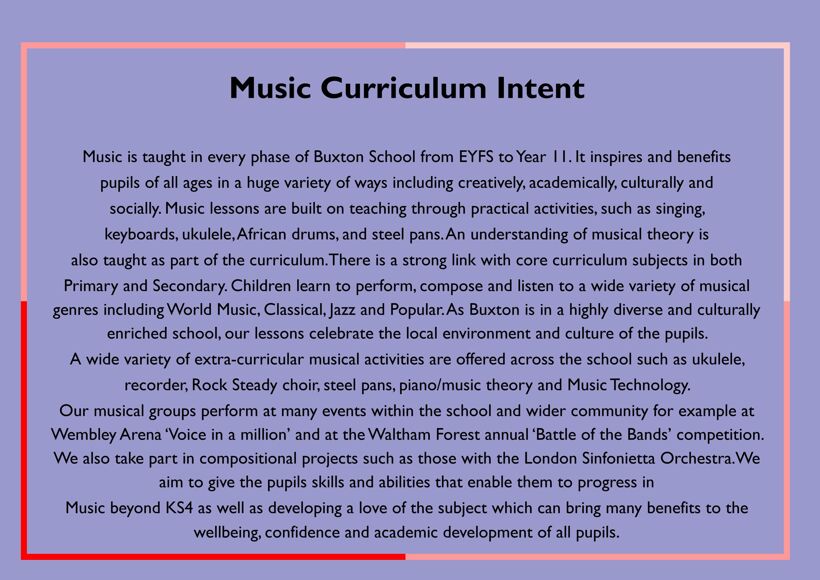 The KS3 Music Curriculum
Throughout Years 7, 8 and 9 ( terms 1 and 2 ) students engage in performing, composing and listening to many different types of music. Students explore how music is created and performed in a practical way, whilst developing their understanding of the musical elements. They also have the opportunity to learn a wide range of instruments such as guitar, ukulele, piano, violin and drums. Singing is also very much enjoyed at Buxton and students have to option to join the school choir which regularly performs both in school and within the community. Other extra curricular activities include 'Battle of the Bands', 'Voice in a Million' and visits to see Musicals.
The KS3 curriculum lays a foundation of knowledge and practical skills which prepares students for GCSE music. The KS4 course then further develops students' performance, composition and appraising skills.
For enquiries about instrumental lessons
Music Teacher enquiries
email: georgia.joseph@buxtonschool.org.uk
Useful websites for parents
Musical Elements
https://www.bbc.co.uk/bitesize/subjects/zmsvr82
Musical Theory
Supporting students in music outside of school
• For choirs/ensembles/music clubs outside of school, visit:
https://www.walthamforest.gov.uk/content/music-service
• 2nd hand musical instruments:
https://www.walthamforest.gov.uk/content/music-service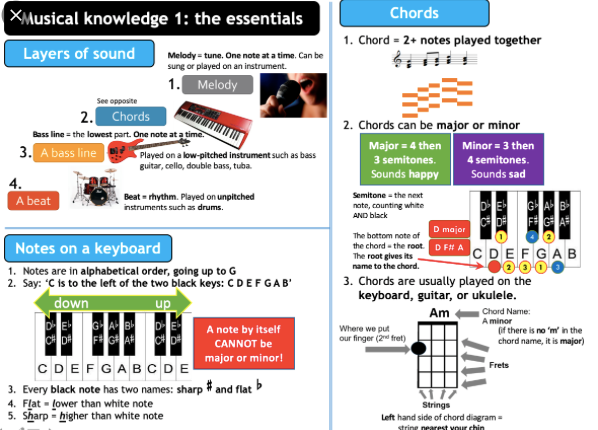 GCSE Music Edexcel
Course Overview
Exam Board Website
https://qualifications.pearson.com/en/qualifications/edexcel-gcses/music-2016.html
Paper 1 Performance 30% Controlled Assessment ( Course Work)
Students practice their chosen instrument or voice. They will be aiming to achieve 4 minutes worth of recording, including solo and group performance, between at least Grades 1 - 4
Homework will include practice and students should aim to complete at least 15 minutes of practice a day.
Students are encouraged to perform live in concerts and attend extra musical groups.
GCSE Performing Difficulty Levels
There are three levels of difficulty for pieces of music at GCSE Level:
Less Difficult - Prep and Grade 1 - 2 pieces. Maximum marks:
Pre Grade 1 = 18/30
Grade 1 = 20/30,
Grade 2 = 22/30
Grade 3 = 24/30
Standard - Grade 4 Maximum marks = 30/30 (if no mistakes)
More Difficult - Grade 5 - 8. Possible to get full marks,30/30, with a
few small mistakes)
You can perform on any instrument including the voice. You can also perform Beatboxing and Rap
Paper 2 Composing 30% Controlled Assessment ( Course work )
Students will study the following topics:
MELODY, HARMONY, STRUCTURE, TEXTURE, RHYTHM, TEMPO, and
DYNAMICS. These Topics correspond with lessons taught at the same time for Paper 3. Students are taught how to create their own music in different forms and styles using instruments and music technology.
Paper 3 Listening 40% ( Examination paper 1 hour 45 mins)
This consists of half termly units of work based around the key elements of music,
MELODY, HARMONY, STRUCTURE, TEXTURE, RHYTHM, TEMPO, and
DYNAMICS. Students listen to many types of music from classical to popular learning how to analyse, draw comparisons and develop evaluation skills. The exam will have 9 questions based on the following pieces in particular: